The Invisalign® system is one of the world's most advanced methods for adult teeth straightening. Start your journey towards a confident smile with our Invisalign treatment in Brighton.
In addition to improving aesthetics, having straighter teeth makes it easier to clean in between your teeth. Improving the health of your teeth and gums – especially in those crowded areas.
At Preston Circus Dental Practice in Brighton, we offer a complimentary initial Invisalign assessment to see if you are a suitable candidate. We also include a set of retainers (Q560) to keep your teeth straight after treatment, and a free home whitening system (Q370) to brighten your smile at the end of treatment.
Contact our friendly team today to book an assessment of your teeth and discuss if this method is the most suitable option for you. We offer 0% finance on this treatment via Tabeo Finance. Click the Finance button below or contact us for further details.
About Invisalign® Treatment
As an adult, if you have concerns about the alignment of your teeth, you are very likely to also have concerns about the prospect of wearing braces. Wearing such unattractive metalwork for a protracted period of time may well impact your confidence and social life. Invisalign® offers a near-invisible aligning system that straightens teeth fast and contains no metal.
Invisalign® treatment consists of a series of custom-made aligning trays. When you work with one of our dentists here in Brighton, they will change the trays every few weeks to fit the new tooth configuration. You can work with the system at your own pace and even remove the trays for special occasions. Most people who sign up for this treatment report spectacular results and a huge boost to their self-confidence.
You're 60 seconds away from discovering your new smile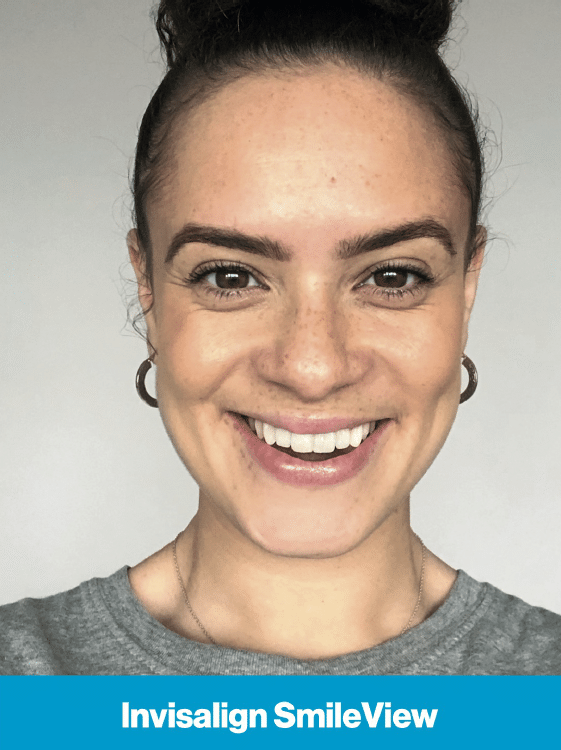 *Our smile visualisation tool is a computer generated simulation of what your smile may look like after clear aligner treatment. Actual results may vary.
FAQs about Invisalign®
What kind of bite problems can Invisalign® correct?
Invisalign® corrects the same dental problems as traditional metal braces; the only difference is that Invisalign® trays are almost invisible to the naked eye, and can be removed at will.
What are the most common problems that are corrected with Invisalign®?
Invisalign® commonly corrects: overcrowding of the teeth; large gaps between teeth; crossbite, where one or multiple upper teeth bite inside the lower teeth; overbite, where upper teeth project further than, or completely cover, the lower teeth; and underbite, where the lower teeth project further than, or completely cover the upper teeth.
What advantages does Invisalign® offer over traditional braces and veneers?
Traditional dental braces, Invisalign® aligning trays, and dental veneers are three different ways to perfect the alignment of the teeth.  Invisalign® offers a distinct advantage over these other treatments because the aligning trays are fully removable, they are comfortable and nearly invisible.
What does Invisalign® treatment involve?
Our dentists will devise an initial treatment plan before creating the special aligning trays.  3D digital images are taken of the entire jaw.  These images allow our dentist to move specific teeth on the screen, view the jaw from different angles, and also foresee what the face might look like in years to come. Essentially, this technology can show how Invisalign® trays will change facial aesthetics.
What are some considerations when wearing Invisalign® trays?
The Invisalign® aligning trays should be worn constantly, except when eating and drinking.
Will I have to give up certain foods if I start Invisalign® treatment?

No. One of the advantages of the Invisalign system is that you do not need to alter your diet. You can simply remove the trays whilst you eat and replace them after you finish. Ensure that you brush your teeth before putting the aligners back in your mouth to avoid food debris getting stuck and decaying.
Does having Invisalign® treatment hurt?

Many patients may experience a little discomfort in the first few days of using the system, due to the pressure exerted on your teeth to align them. After a while, your teeth and mouth will become used to the pressure from Invisalign and you will begin to notice it less and less. In the event that you do find some on-going discomfort, you can use ordinary pain relievers such as paracetamol to help minimise any mild to moderate soreness.
When is Invisalign not the right option to take?

Invisalign technology has advanced a lot in recent years and is suitable for treating most alignment issues. However, there may be certain scenarios where this is not the right solution for you. For example, if you are suffering from gum disease or you have a very serious alignment issue. In situations such as these, our dentists will discuss an alternative route to fixing your teeth.
Why should I travel to Brighton for my Invisalign treatment?

We treat patients in Brighton, across Sussex, and further afield with high-quality cosmetic dentistry services. If you are unfamiliar with Brighton, it is a vibrant coastal city, just over 1 hour away from London by train. Patients from outside the city love visiting us as they can combine their visit with a trip around the North Laine shops, that are close to our practice. Start your Invisalign treatment in Brighton by contacting our support staff today.
Enquire about Invisalign® treatment today
We offer Invisalign® treatment to patients in Brighton & Hove and across Sussex. You can expect a warm and friendly welcome at our dental practice just off London Road. If you have any questions or concerns about Invisalign®, please contact our practice today for assistance.