We recently welcomed an announcement from our Chief Dental Officer that we can start to plan a phased reopening of the practice from 8th June – news that we've been waiting for since we went into lockdown.
It is however vital that we resume our services to patients in a safe and effective way and that we work within the current national guidelines which includes the fitting of enhanced Personal Protective Equipment.
Whilst we continue to source the enhanced protective equipment that keeps both staff and patients safe, and undergo staff training, we will phase our reopening.
Initially we will be prioritising those patients who have had or are still in severe pain – we have a list of patients who have contacted us to use the emergency triage service during the lockdown period and we will be contacting you shortly to discuss your current needs.
We can only see patients who have had a telephone pre-assessed appointment.
Clearly, there are many of you who are eager to be seen and we will endeavour to get to you all as soon as we can. The practice is currently open for telephone enquiries only, so should you need to speak to a member of the practice, please contact us by calling 01273 605199. Please do not attend the practice in person.
Your next visit to the practice may look and feel different but we are still the same team we were prior to the lockdown and will keep you updated and support you throughout your patient journey. Please find below our patient journey according to Public Health of England. Our priority is to keep both patients and staff safe.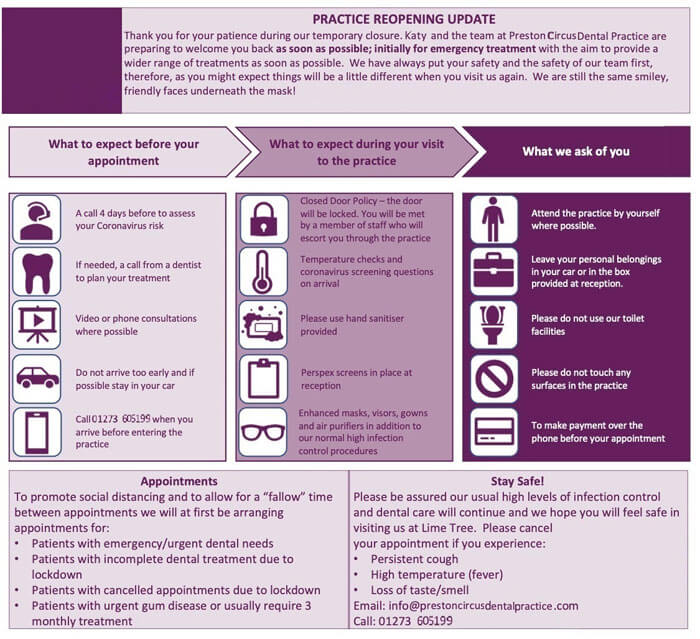 We have been overwhelmed by your support during the lockdown period and ask that you bear with us that little bit longer, after which we hope to welcome you back into the practice.
In the meantime, please keep safe and look out for further communications from us!
Please use the contact form on this page should you have any questions you'd like to ask us.
Kind regards
Dr Katy Pirayesh
Preston Circus Dental Practice